By Mae Thiwari
August 18, 2021 – AIT's newly established Centre for Global Challenges facilitated the sharing of lessons learnt from the management of the covid pandemic between the governments and health professionals of the State of Haryana (India) and Thailand. Initiated by Dr. Suwit Khunkitit, AIT Board of Trustees Vice Chairperson, and Professor Deepak Sharma, Director of the AIT Centre for Global Challenges, the webinar titled "COVID-19 Crisis Management: India's Experience of Delta Variant Spread" was first in the series of substantive discussions on global challenges to be addressed by the Centre.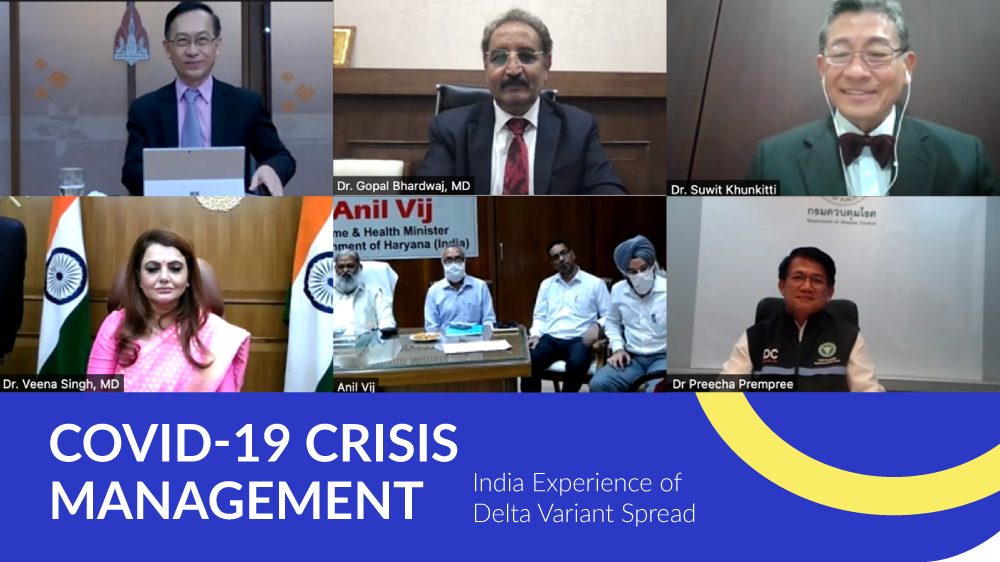 Not long ago, India was the epicenter of COVID-19 pandemic. Haryana, a state next to India's capital New Delhi, recorded 15,000 daily cases at its peak in May 2021. Three months later, the state of 27 million people recorded only about 20 new cases per day. How did they do it? The government of Haryana and the medical team behind this success shared their experience and insights with their Thai counterparts and discussed how they can join hands to deal with any future challenge of this nature.
"Covid issue is a big global challenge for all of us, and this is one of the issues that Asian Institute of Technology, with the newly established Center, could take part in," said AIT Vice Chairman of the Board Dr. Khunkitti as he gave his remarks. "I believe, given how damaging this pandemic continues to be, it'll be worth our while to share as much information as we possibly can, so that our collective capacity to deal with the challenges is enhanced."
The webinar started with Haryana Government outlining state mechanisms that provided solid infrastructure and system of care, followed by insights from the medical team on various aspects concerning not only the treatment, but also the management of the pandemic. Some of these aspects included: establishing a center of command, centralizing the flow of information, addressing infrastructure gaps, ensuring adequate essential medical supplies, organizing mobile teams to actively test for the infection, rolling out vaccination on a massive scale, and providing home isolation tool kits. It was clear to the Thai counterparts that Haryana's success in managing covid did not depend on a 'single' factor. Rather, success was due to coordinated efforts on several fronts.
Honorable Shri Anil Vij, the Health and Home Minister of Haryana, in his opening remarks, also emphasized the importance of effective co-ordination of various efforts as a key to success. He also pointed that a noteworthy aspect of Haryana's pandemic management strategy was 'home isolation'. He explained how people with mild or no symptoms isolating at home helped "sparing hospital beds for more sick patients." The patients at home were provided with home isolation kits, containing a booklet of information; digital thermometer; pulse oximeter; steamer; medicines; and immunity boosters.
The much-debated issue during the panel discussion was the issue of 'lockdown'. Though appearing to be the most effective measure to contain the spread of disease, the lockdown poses serious economic consequences – noted the panelists. To this, Dr. Dhruva Chaudhry shared how mathematical modeling could be employed to assist with the decisions on which areas should be placed under a lockdown, and for how long, to minimize the economic impact.
Keynote speakers of the webinar included AIT Vice Chairman of the Board and Former Deputy Prime Minister and Minister of Education of Thailand Dr. Suwit Khunkitti; Thai Deputy Minister of Public Health, Dr. Sathit Pitutacha; President of Khon Kaen University, Dr. Charnchai Panthongviriyakul; Associate Professor from Khon Kean University's Faculty of Medicine, Dr. Piroon Mootsikapun; Haryana's Health and Home Minister Shri Anil Vij; Additional Chief Secretary to Government of Haryana Health Department, Mr Rajeev Aurora; Director General Health and Services, Government of Haryana, Dr. Veena Singh; and Senior Professor and Head of Pulmonary & Critical Care Medicine, State Nodal Officer COVID-19 Management in Haryana, Dr. Dhruva Chaudhry.
Other speakers participating to share expert knowledge included Associate Professor Dr. Manjunath BG; Director and Head of Department of Internal Medicine, Medanta the Medicity Dr. Manjunath BG; Professor at Department of Anesthesiology & Critical Care Dr. Prashant Kumar; CH. Ranbir Singh O.P.D. Dr. Pawan Kumar Singh; Senior Prof. and Head of Department of ENT and Chairman of Mucormycosis Management Committee Dr. Aditya Bhargava; and Director of Health Services (IDSP), Institute of health and Family Welfare, Haryana, Dr. Usha Gupta.
Thai Deputy Director General of the Department of Disease Control, Ministry of Public Health, Dr. Preecha Prempree joined the panel discussion moderated by Haryana General Medicine Doctor, Dr. Gopal Bhardwaj. Dr. Bhardwaj was also the driving force as well as the principal coordinator of this event from the Indian side. The main session of the webinar was moderated and broadcast in Thailand by Dr. Nattha Komolvadhin from Thai PBS.
The AIT Centre for Global Challenges serves as a forum for promoting new insights and cogent policy discourses on global challenges facing humanity, such as Climate Change, Energy-Food-Water Security, Inequalities, Pandemics, Infrastructure, Institutions and Governance, Technology-Public Policy discordance, and Human-Machine conflation. These insights and discourses, stemming from imaginative perspectives, should advance our understanding of the innately complex nature of the challenges, and contribute to the design of responsible and practicable policy responses for their redress.