By Mae Thiwari
September 8, 2021 — The Asian Institute of Technology (AIT), in association with the University of Exeter (UNEXE) in the United Kingdom, held the final technical workshop of a research project on "ENRICH: ENhancing ResIlienCe to future Hydro-meteorological extremes in the Mun river basin in Northeast of Thailand" on Wednesday, 8 September 2021. The project has assessed plausible future land use change and climate change scenarios in the Mun River basin and their combined impacts on future hydro-meteorological extremes. As future dry and wet extremes are going to be more severe and frequent, the research team has proposed several adaptations strategies for the basin to cope with hydro-meteorological extremes in the coming decades. ENRICH is co-funded under the Newton Fund by the National Research Council of Thailand (NRCT), Thailand Science Research and Innovation (TSRI), and Natural Environment Research Council (NERC) of the UK. It has been implemented for a period of 3 years from October 2018 to September 2021.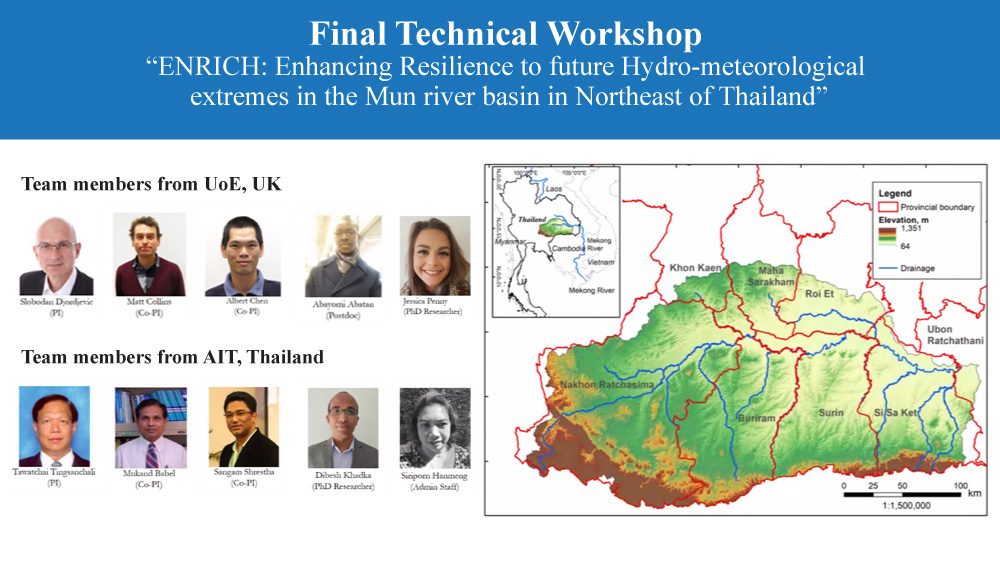 The Mun river basin which covers many provinces in the Northeast of Thailand was chosen as the research area as it is prone to both droughts and floods. About 80% – 90% of rice cultivation in the basin relies on rainfall as irrigation facilities are limited which makes agriculture highly vulnerable to climate change and can seriously affects rice production, living conditions, and income of farmers who represent the majority of the population in the basin.
AIT and UNEXE disseminated findings and recommendations at the final workshop, which was attended by several stakeholders, namely the Department of Water Resources (DWR), Royal Irrigation Department (RID), Department of Disaster Prevention and Mitigation (DDPM), Office of National Water Resources (ONWR), and other agencies of the Thai government, as well as various universities, research and international organizations. The participants were actively involved in the discussion and provided important feedback to the research team. The key end- users (beneficiaries) of the project results are the local stakeholders, especially farmers, in the Mun River basin and beyond.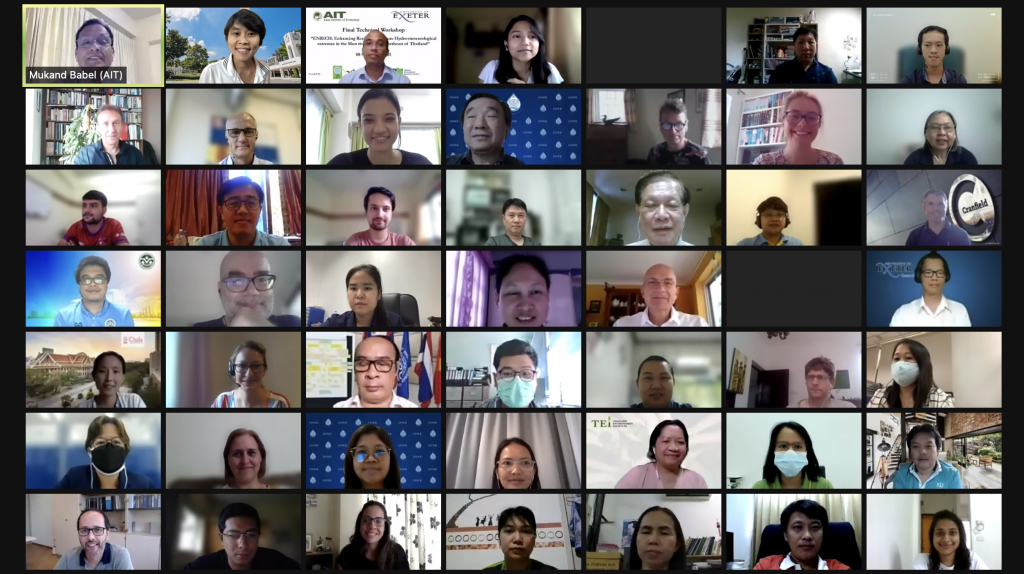 Welcome remarks were delivered by AIT President Dr. Eden Woon, AIT Dean of School of Engineering and Technology (SET) Prof. Dieter Trau, Thai Team Leader of ENRICH project Prof. Tawatchai Tingsanchali, and UNEXE Co- Director of the Center for Water Systems and UK Team Leader of ENRICH project Prof. Slobodan Djordjevic. Ms. Kwansiri Wanwiwake, Head of Mission of International Affairs from NRCT and Ms. Wendy Matcham, Head of Resilient Environment from NERC delivered Opening Remarks.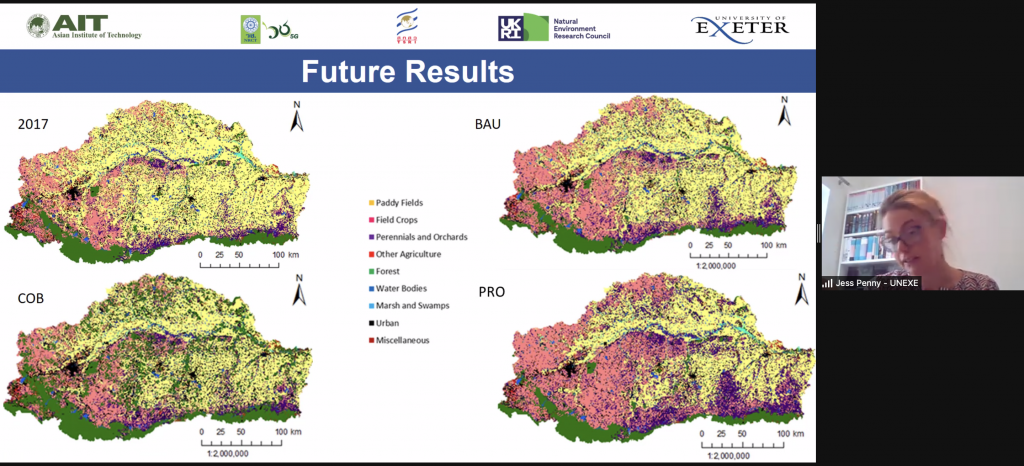 After an overview of the project provided by Prof. Mukand Babel from AIT, a PhD student from UNEXE Ms. Jessica Penny presented key findings on the projection of Land Use Change (LUC) in the basin. By using 'Future Land Use Simulation Model', the study offers seven possible future of land use scenarios, including one where climate drivers could put rice fields at a greater drought risk than other land use scenarios, such as expansion of field crops and perennial and orchard.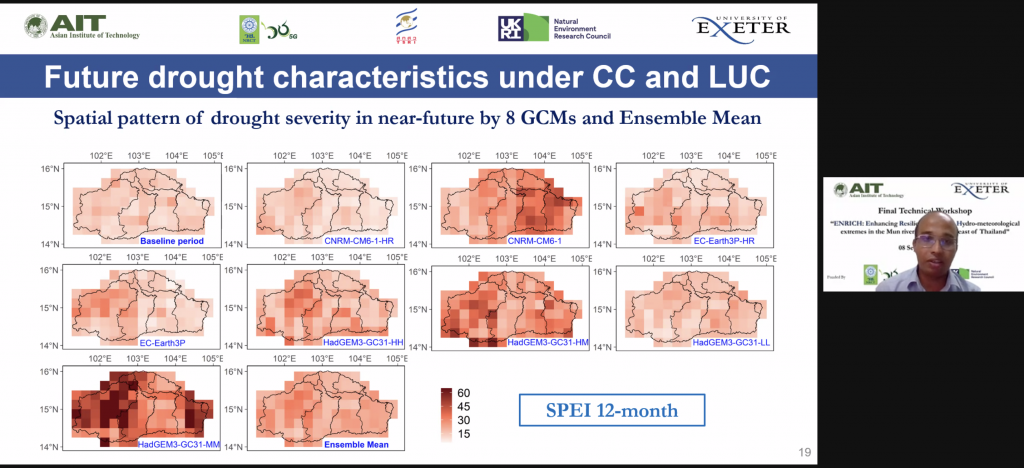 "Climate analyses using several climate models suggest that in the future, both dry and wet extremes are going to be more frequent and more severe," said Dibesh Khadka, PhD student in Water Engineering Management (WEM), AIT as he concluded his presentation on Climate Variability and Climate Change. While the projections show that extreme rainfall events will increase, the annual number of rainy days could decrease by up to 15 days in the region.
With results showing that under combined stressors of Climate Change and Land Use Change, the duration of agriculture droughts of 10-year return period will increase by 50% and the severity will increase by more than 150%, the agriculture sector will directly be affected, triggering domino effect such as food security, economic hardship, social stability, etc. To prevent or lessen such impact, the researchers also proposed adaptation strategies which include creating water storage, shifting planting date earlier when rain starts earlier, and using combination of water and fertilizer/nutrient management to increase both the quality and stability of crop production.
Comments from stakeholders participating in the workshop, including one which proposed the involvement of the private sector to provide agrotechnology to the farmers as the adaptation strategy, will direct the future research on the topic, said AIT Prof. Mukand S. Babel who has been leading the overall project.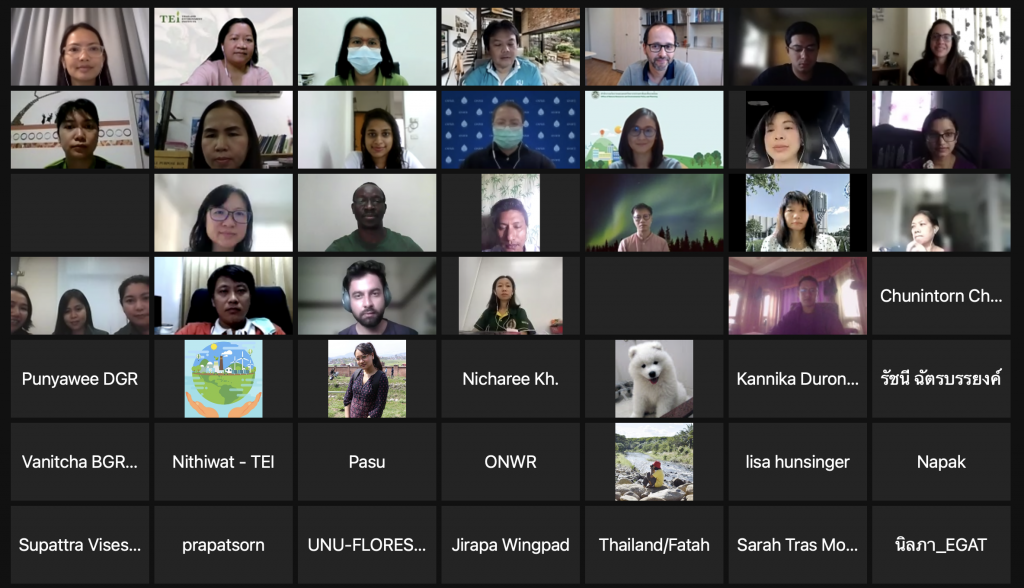 The findings have been presented as four integrated Work Packages (WPs) by the following researcher: WP1 'Land use change' by Ms. Jessicca Penny; WP2 'Climate variability and climate change' by Mr. Dibesh Khadka and Dr. Abayomi Abatan; WP3 'Hydro-meteorological extremes' by Mr. Dibesh Khadka; and WP4 'Adaptation strategies and measures for droughts' by Prof. Tawatchai Tingsanchali. The scientific papers and policy briefs summarizing the findings of the project will soon be published and disseminated to the stakeholders.