By Mae Thiwari
Student of Natural Resources Management, Win Myint Thein, and student of Water Engineering and Management, Vishal Thakur, gave insights into their internship with the United Nations Educational, Scientific and Cultural Organization (UNESCO) Bangkok. The exposure to various aspects outside their fields of expertise have broadened their perspectives and expanded their horizons.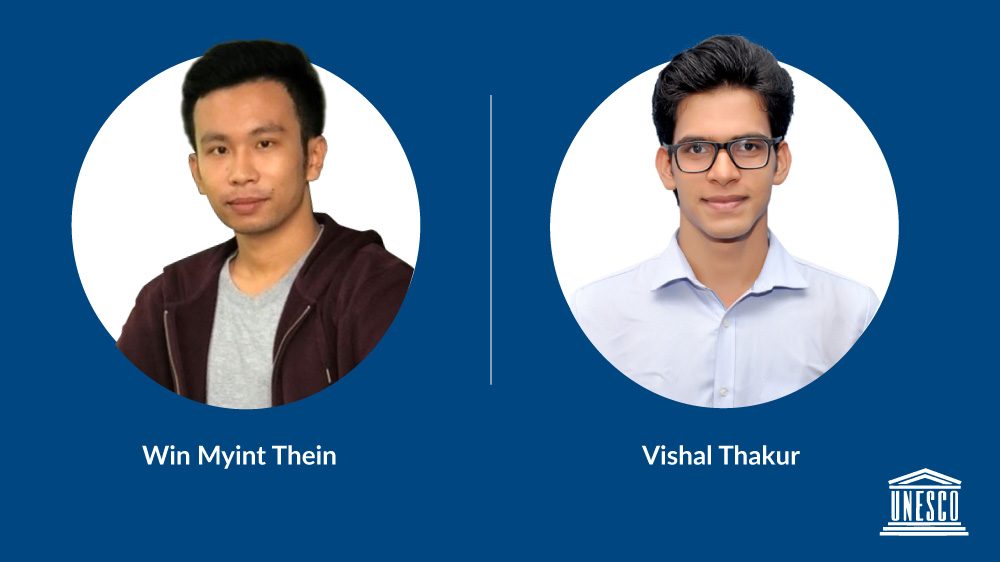 To equip its students with hands-on experience, AIT has long been providing internship opportunities in collaboration with its international partners. Following the partnership agreement signed on 29 September 2020, the internship program is part of a cooperation between UNESCO and AIT to contribute towards the development of future leaders in achieving the Sustainable Development Goals.
UNESCO Bangkok is currently hosting four students including Mr. Win Myint Thein from the School of Environment, Resources and Development (SERD) and Mr. Vishal Thakur from the School of Engineering and Technology (SET).
Trained as a water engineer, Mr. Thakur thought he would be assigned to work on technical aspect, such as software application, that he was used to. To his benefit, he has been assigned to work on the productions of a Hindi version of the 'UNESCO Green Academies' and a mangrove poster series, where he gets to gather information about mangrove forests from across the globe.
"What I have found is with a proper network of mangrove trees, we can prevent certain amount of flooding. The mangrove trees can also sequester carbon dioxide in addition to being used for disaster prevention. In this way, I have expanded the knowledge in my area to incorporate the environmental aspect into water engineering," said UNESCO Natural Sciences intern, Mr. Thakur.
As for the student of Natural Resources Management, Mr. Win Myint Thein has the opportunity to apply what he has learned in the classroom at AIT to work at the Mangrove Forum. He has been assigned to manage the production of a global poster series on mangrove ecosystems, as well as to produce a Burmese version of a brochure on environmentally friendly schools called 'The UNESCO Green Academies'. Mr. Win was part of the team behind UNESCO's video presentation shown to the global audience on World Environment Day 2021 hosted virtually in partnership with AIT on June 4, 2021. Moreover, he is also working on the production of Mangrove Poster Series in partnership between UNESCO, the Mangrove Action Project, and the Thai National Science Museum.
"I am having wonderful new experiences at an international workplace such as this. To be engaged in conversations with international colleagues is one of the best opportunities I obtain from this internship," said the Mangrove Forum intern, Mr. Win.
Dr. Benno Boer, Chief of Natural Sciences at UNESCO Bangkok Office, supervisor of both Mr. Win and Mr. Thakur, explained that the environment of working alongside people of different nationalities, ethnicities, gender, cultural and religious backgrounds at the United Nations can enable the interns to understand global peace-related issues and become part of the active global networks.
"UNESCO is very grateful for the interns, for their time, their enthusiasm, and their professional contributions, as well as the youth-spirit that they bring to the team," said Dr. Boer as he further added how the interns have contributed to UNESCO's achievements by making the online events "more lively, interesting, and suitable for the participation of the youth."
Based on success of the internship program with AIT, Dr. Boer shared that soon UNESCO will try and widen the program to include other field offices such as UNESCO Office in New Delhi.
"For the time being I am very happy about the good achievements of the internship program, and I am thankful to the interns, as well as the numerous professional supporters from UNESCO and AIT," added Dr. Boer.
Having started his internship before the COVID-19 situation in Thailand took a serious turn, the student of Natural Resources Management Mr. Win had a chance to have an office experience one day a week. Limited number of UNESCO Bangkok staff could work in the office on alternate days to avoid crowding until strict lockdown measure was imposed.
Although everything has to be done online, not everything can be done online. The student of Water Engineering Management Mr. Thakur is looking forward for the restrictions to be lifted so he can go to the field, as part of his internship, to get a full picture of the environmental aspect of water management and to collect data from mangrove forest. Having attended meetings online, Mr. Thakur has learned of various aspects of water security in different countries, including the social aspect that he was not familiar with before.
"This is the kind of work that I'm really enjoying doing. To gather information and learn more from each country, I really enjoy the work," concluded Mr. Thakur, UNESCO Bangkok intern.
---
'Intern Insights' is a series of internship stories, told by students participating in AIT Internship Program. It provides a glimpse into student's experience with a reputable organization, what they have learned and how it has inspired them. Each month, there will be a story of an internship with a different organization participating in the Internship Program – stay tuned!